Designing your new home can be a stressful process.  Yet, with the right expertise, it can be an enjoyable experience where your needs are heard and understood, then you are guided through the process. More importantly, your new home comes out perfectly as you envisioned it.
From concept to design and site-prep to finish work, we have the complete solution for making your new home what you have always dreamed of.
Sometimes the house you thought you needed becomes inadequate to serve the needs of your family.  Whether it's, "surprise, your pregnant….yet again" or it's time to move your parents or in-laws into your home, life has a way of increasing your need for home expansion.
Whatever the reason, don't worry – we have you covered!  Our teams are very familiar with designing and building additional living space.  After all, it's a normal fit and function of life.
Whether you will use your garage store your cars and mower or to have a place to build things for your home, we can build the garage that is right for your needs.
Are you frequently throwing a summer party with friends or having your family over for a holiday feast?  Or perhaps your little kids aren't so little anymore and the kitchen is inefficient for your morning routine.  Either way, the kitchen is the usually at the center of the action, because hey, everyone has to eat!
In much the same way, Bathroom needs tend to change overtime.
Take a moment to browse our previous projects to get ideas for your new kitchen or bathroom!
Overtime, properties need maintenance and upkeep to remain aesthetically pleasing.  When this fails to happen on a regular basis, the property tends to fall into disarray and that's where we can help.
It is usually more cost effective to completely remodel the existing building than to start over, especially if the structural components are in good condition and only cosmetic work needs to be done.  Give us a call for a free consultation.
After the cold of winter, every New Englander understands the importance of making the most out of summer.  Whether it be a pool party or the 4th of July cook out, a deck is ideal for entertaining guests or relaxing with the family.
Additionally, keeping up your home with new siding and trim can help to protect your home from these harsh New England winters.
When the normal way of doing it doesn't meet your expectation or taste, we can custom build and personalize to your taste and expectation.
Looking to upgrade from those old drafty windows and doors? Add value and efficiency to your home with new replacement style or new construction style windows.
We offer a variety of window and door options to suit your needs and style.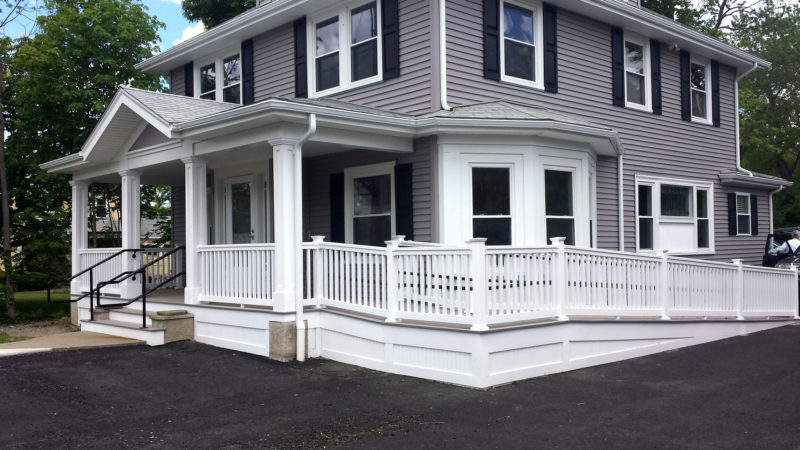 Tired of looking at peeling paint?  Change your siding to vinyl siding.  We offer many different styles and colors.
Make the exterior of your house maintenance free by also wrapping your trim with a new aluminum coil or PVC.
Need a commercial project completed?  Give us a call!